Invest in the shares of the biggest companies worldwide with Zenstox
Thanks to Zenstox, you can invest in companies worldwide, from all types of technologies and market segments. There are more than 300 CFD's to choose from, and countless investment opportunities.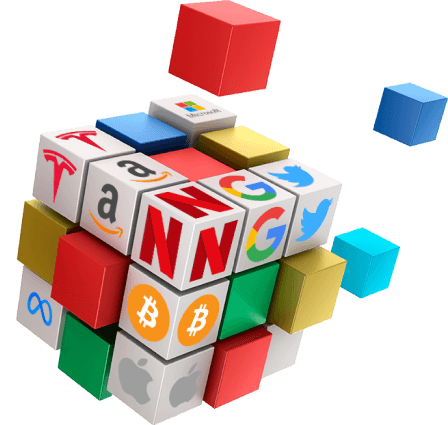 You will find our platform the glorious FAANG companies – Facebook (Meta), Amazon, Apple, Netflix, and Google (Alphabet), or the biggest pharmaceutical ones – like Pfizer, Johnson & Johnson, Astra Zeneca, and Moderna. Here you can fly on the wings on Airbus and Boing, Delta airlines, or spread the hands like wings after some profitable trades with CFDs of shares of famous football clubs like Barcelona, or Juventus. Let us check the biggest sectors and their most notorious examples in our portfolio.
Drive profit from the most prominent automakers with Zenstox
On our platform, you will find the traditional automakers such as Mercedes-Benz and BMW, and the future of the sector: Tesla, XPeng, Lucid. And not only this, but you can also invest in CFDs of mobility solutions such as Uber and Lyft. If you are into cars, you can make the most out of your interest and hobbies and cash on your knowledge in the sector. The next thing that comes to investors' minds is the energy companies, such as Abu Dabi National Oil Company and Aramco.
Some stocks on Zenstox are "immune" to loss
Since the COVID is here to stay for a while, the pharma companies are rising in value. Our platform offers you CFDs of Pfizer, BioNTech, Moderna, Johnson&Johnson, AstraZeneca. If you are following the news around vaccines and pills against the virus, you can open a position with a high level of knowledge.
Profit from innovation with Zenstox
Besides the mobility innovations such as Lyft and Uber, you can profit from the newest trend in nutrition, for example. Beyond Meat Inc is a producer of plant-based meat substitutes founded in 2009 or the cloud-computing data warehouse – Snowflake. Spotify, Zoom, and Twitter are on board too. If you are a tech geek, you will find your piece of share that suits you best.
Have fun with the CFDs of shares on Zenstox platform
Netflix and chill? Better Netflix and trade. If you are into the entertainment industry, you can invest in CFDs of Netflix, Disney, Warner Music Group, and many others.
Multiply your investment with leverage when trading CFDs of shares with Zenstox
On our platform, you can multiply your investment by using the tool – leverage. On top of that, you can get the most out of your initial positions with full protection from loss. If this sounds like an exciting investment opportunity for you, register to get more free information.